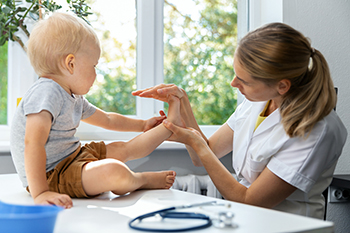 Parents may notice their children's walking style, or gait, may be abnormal. There are common reasons why specific types of shoes are worn, with the hope of correcting existing foot conditions. Some of these ailments can include low muscle tone, toe walking, or flat feet. Corrective shoes may help the child to walk and run straighter, and this may be accomplished by having proper heel and arch support. The majority of babies are born with flat feet, and the heel generally develops as they approach their teenage years. Wearing shoes or orthotics specifically designed for flat feet may help to improve posture, and possibly relieve existing foot pain. If you notice your child has difficulty or pain while walking, it is suggested that you confer with a chiropodist who can determine the cause, and offer correct treatment solutions.
If your child is experiencing foot or ankle pain, please consult with Paul A. Scotti, D.Ch from West Toronto Foot & Ankle Clinic Inc. . Our chiropodist will assess your condition and provide you with quality foot and ankle treatment. 
Common Causes of Foot Pain in Children
While children can experience many of the same foot problems as adults do, some foot problems may be more common during childhood. 
Causes of foot pain in children can include:
Deformities that are present from birth, such as flat feet or clubfoot

Sever's disease, which is an inflammation of the growth plate in the heel bone

Various sports injuries, such as sprains and fractures 

Ingrown toenails

Athlete's foot

Plantar warts
Prevention
It is important to look after the health of children's feet in order to prevent future problems from arising. Keep your child's feet clean and dry, trim their toenails regularly, ensure their shoes fit properly, and keep a watchful eye on any symptoms of foot pain, such as limping. If you notice any symptoms or if your child complains of foot pain, a chiropodist can help. 
If you have any questions, please feel free to contact our office located in . We offer the newest diagnostic and treatment technologies for all your foot care needs.
Read more about Children's Foot Health