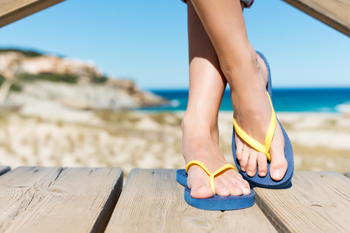 Many people look forward to the summer months for the lighter clothing that is worn. This can also apply to wearing shoes that allow more freedom, such as flip-flops or sandals. It is helpful to properly care for the feet during the colder months by washing, drying, and trimming the toenails weekly in preparation for wearing these types of shoes. Additionally, many people walk on the sand and are exposed to the sun while at the beach, and this can wreak havoc on their feet. The heels are prone to drying out faster than the rest of the foot, and it may help to apply a good moisturizer on them several times per day. Many people are careful about putting sunscreen on the majority of their bodies, and the feet can be overlooked. People who have sunburned feet experience pain and discomfort which can be easily avoided when sunscreen is frequently applied. If you would like more information about effective tips on how to protect your feet during the summer months, please consult with a chiropodist.
Summer is the season for many foot and ankle issues. If you're suffering from a foot or ankle problem, please consult with Paul A. Scotti, D.Ch from West Toronto Foot & Ankle Clinic Inc. . Our chiropodist can help you maintain the health of your lower limbs and your mobility. 
Common Summer Foot Problems 
Athlete's foot

Toenail fungus

Plantar warts

Foot and ankle injuries

Bunions

Hammertoes

Heel pain

Cracked heels 

Sunburns

Blisters
Prevention
Wear supportive shoes and avoid flip-flops

Maintain good foot hygiene

Exfoliate and moisturize the heels

Apply sunscreen to the feet and ankles

Wear shoes in public areas like swimming pools, locker rooms, and showers 
If you have any questions, please feel free to contact our office located in . We offer the newest diagnostic and treatment technologies for all your foot care needs.
Read more about Summer