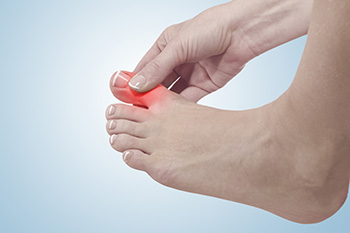 There are different types of foot afflictions that negatively impact the joints of the feet. These afflictions can be detrimental to the health of your feet and your overall well being. Gout is one such foot ailment, and it can be helpful for you to make yourself aware of the different causes of gout so that you can try to prevent its development. Gout is a kind of arthritis that primarily affects the joint in the big toe, which is referred to as the metatarsophalangeal joint. This is due to a buildup of uric acid in the body. Gout attacks can be very painful in some individuals. Sometimes taking certain medications can increase your risk of gout if the medication increases uric acid levels in the body. Also, excessive alcohol consumption can put you at a heightened risk of developing gout because alcohol inhibits your body's ability to effectively remove uric acid from the body. Lastly, if you have been exposed to significant amounts of lead, you might also be at risk of developing gout. Gout is no joking matter – see a chiropodist if you think that you might be at risk of developing gout.
Gout is a painful form of arthritis that can affect anyone. Please consult with Paul A. Scotti, D.Ch from West Toronto Foot & Ankle Clinic Inc. . Our chiropodist will assess your condition and provide you with quality foot and ankle treatment. 
What Is Gout?
Gout is characterized by sudden, severe attacks of pain, redness, and tenderness in the joints. This type of arthritis is caused by a buildup of uric acid in the bloodstream. When uric acid crystallizes in a joint, often the joint of the big toe, it can bring about a gout attack. 
Symptoms
Symptoms of gout include: 
Sudden and severe pain

Swelling

Redness

Warmth 

Joint stiffness

Joint deformity
Diagnosis
A chiropodist will ask questions about your personal and family medical history, followed by an examination of the affected joint. Laboratory tests and x-rays are sometimes ordered to determine if the inflammation is caused by something other than gout. A sample of fluid taken from your joint can show whether it contains uric acid. 
Treatment
Prescription medications or injections are used to treat the pain, swelling, and inflammation. Patients with chronic gout can also use behavioral modifications such as diet, exercise, and decreased intake of alcohol to help minimize the frequency of gout attacks. Foods and beverages that are high in purines should be avoided since purines are converted in the body to uric acid. If left untreated, this painful condition can leave your joint permanently damaged and swollen.  
If you have any questions, please feel free to contact our office located in . We offer the newest diagnostic and treatment technologies for all your foot care needs.
Read more about Gout