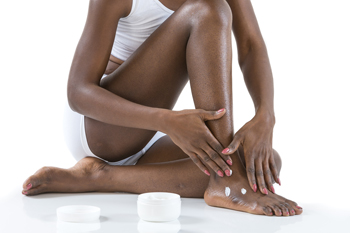 Many foot problems affect the bones and inner workings of the feet, but it is also important to protect the skin and soft tissues of your feet from injury. Studies show that problems with the skin and fat pads in the feet are common in around 80 percent of adults. It is important to protect skin in three areas: the outer layer of the skin from chafing and irritation, the underlying layers from undue pressure and force, and the fat pads of the heel, the ball of the foot, and the bottom of the toes. After the age of 30, the fat pads of the foot start to break down offering less protection from pounding and stress. This adds to the soreness of the feet at the end of the day. By age 50, the skin of the foot also becomes thin. This leaves your feet more vulnerable to blisters, cuts, bruises, and other types of skin damage. It is suggested that you check your feet each day for any lesions or unusual sores. Keep your feet clean and moisturized daily. Make sure toenails are cut straight across to avoid ingrown toenails. Wear moisture-wicking padded socks and avoid walking around barefoot. Wear shoes that fit properly and alternate pairs of shoes every day. If you are experiencing foot pain regularly but are unsure of the cause, please see a chiropodist for an exam and treatment options. 
Caring for your feet is not just something done at the chiropodist's office. Good foot care starts at home. If you would like to learn more about daily foot care practices, please consult with Paul A. Scotti, D.Ch from West Toronto Foot & Ankle Clinic Inc. . Our chiropodist can help you maintain the health of your lower limbs and your mobility. 
There are many things that you can do at home to help care for your feet, including: 
Wearing shoes and socks that fit properly

Washing the feet daily with soap and water

Drying the feet thoroughly

Applying moisturizer to the soles and heels of the feet

Taking a walk and exercising the feet regularly 

Doing foot stretches and strengthening exercises 
A chiropodist can help figure out a manageable foot care routine for you to keep your feet healthy. If you have any questions, please feel free to contact our office located in . We offer the newest diagnostic and treatment technologies for all your foot care needs.
Read more about Everyday Foot Care