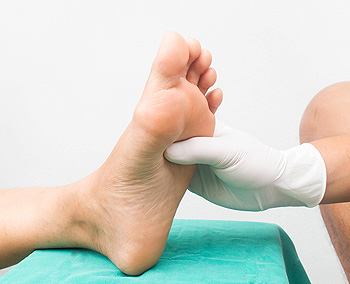 Diabetic neuropathy is a condition that appears in about half of all diabetic patients. It develops gradually, as a result of having uncontrolled high levels of blood sugar for long periods and is common in both type 1 and type 2 diabetes. Peripheral neuropathy occurs when the nerves that supply the extremities are damaged, commonly affecting the lower legs and the feet. Symptoms of diabetic neuropathy include numbness, dizziness when standing, sweating, muscle weakness, and difficulty with balance. Among the causes are damage to blood vessels, high blood pressure, excessive alcohol use, smoking, and side effects from certain medications. Because of numbness and an inability to detect extremes in temperature, the feet can be seriously affected by neuropathy. Sores and cuts can turn into ulcers if not attended to in a timely fashion. Ulcers on the legs and feet can turn into gangrene, if ignored. Neuropathy is not reversible, but it can be managed with the proper care. If you have diabetes, it is highly suggested that you seek the regular care of a chiropodist to monitor your condition and offer treatment solutions as potential problems arise. 
Neuropathy can cause permanent nerve damage if left untreated. If you are experiencing the symptoms of peripheral neuropathy, please consult with Paul A. Scotti, D.Ch from West Toronto Foot & Ankle Clinic Inc. . Our chiropodist will assess your condition and provide you with quality foot and ankle treatment. 
What Is Peripheral Neuropathy?
Peripheral neuropathy is a condition that damages the nerves of the peripheral nervous system, which provide sensation to the limbs. The feet are often affected. Peripheral neuropathy can have many different causes, but it is most commonly associated with diabetes.
Symptoms
Common symptoms of peripheral neuropathy include:
Pain

Numbness or tingling sensation

Burning sensations

Weakness

Loss of balance
Diagnosis
Peripheral neuropathy is diagnosed based on medical history and physical examination. Various tests performed during physical examinations can help determine the type of peripheral neuropathy you may have and what is causing it. 
Treatment
Treatment for peripheral neuropathy will depend on what is causing it. For example, if your peripheral neuropathy is caused by diabetes, then managing your blood sugar, exercising regularly to strengthen the legs and feet, and taking pain medications may be recommended as treatments. 
If you have any questions, please feel free to contact our office located in . We offer the newest diagnostic and treatment technologies for all your foot care needs.
Read more about Neuropathy