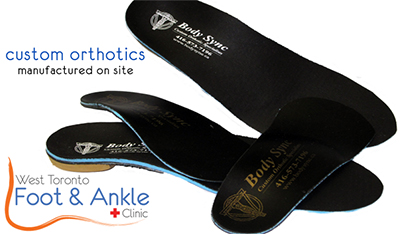 A foot orthotic is a device that can be discretely inserted into the shoe to support, align, prevent and/or accommodate foot deformities and improve foot function. Used in conjunction with appropriate footwear, a foot orthotic can be effective in helping to treat a number of foot and lower limb problems including heel, arch and forefoot pain, shin splints, as well as pain and complications related to health conditions such as diabetes and arthritis. A custom-made foot orthotic requires a prescription and is made specifically for the patient following an assessment of their feet and legs by a foot specialist. A custom-made foot orthotic is designed from a three-dimensional model of a patient's foot and is fabricated from raw materials (it is not a pre-fabricated device that is modified). It is designed to meet the patient's unique and specific foot care needs. A custom-made foot orthotic can have many features such as pressure relief from ulcers, callosities and painful pressure points or to functionally control foot and lower leg biomechanical function.
Paul is the only known Registered Chiropodist or Podiatrist who is also a Certified Pedorthist (C.Ped C) in all of Canada. This gives Paul a unique and unparalleled experience that he brings to the clinic. For this reason, all the custom orthotics are manufactured onsite by Paul himself.
"The Doctor of the future will give no medicine but will interest his patients in the care of the human frame." &nbsp Thomas Edison
Some of the most common conditions that are treated effectively through orthotic use are:
Plantar fasciitis / heel spurs
Metatarsalgia
Morton's neuroma
Shin splints
Posterior tibial dysfunction
Stress fractures
Bunions and Hammer toes
Runner's knee

Diabetic ulcers
Arthritis / Gout
Achilles tendinitis
Pes planus (flat feet)
Pes cavus (high arched feet)
Sciatica
Low back pain & hip pain
Calluses & Corns
Not all Orthotics are created equal, nor are those who prescribe them. CBC Marketplace did an episode on this topic.
To view the video, click on the image below.